This powerful and inspirational new song, produced by Ed and Scott Cash with Covenant31, brings life and encouragement to all who believe in the Changed life Jesus brings to his kids! This song is sure to inspire and bring awesome promises your listeners need to hear.
Click here to Watch Youtube Video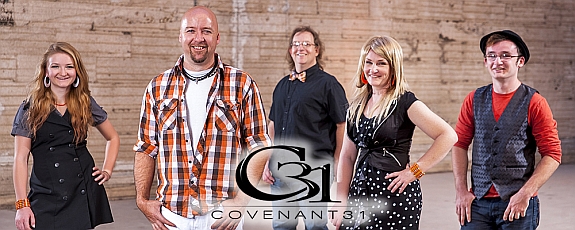 Lyrics:
I can lift my hands to the Holy One, for He has saved
my soul, made my spirit whole.
He gave His life for mine, so I'd be Justified, now
I'm God's own child, Cause I've been reconciled.
So I'll walk through this trial, let You sanctify,
purify, refine me with Your fire…
(CHORUS)
Because You alone are good, Father You alone can
change my heart, by Your blood, Jesus You made a way,
forever yours, I am changed.
So I can trust You Lord, You've proven that to me,
cause You are faithful, forever faithful.
Lord You broke my chains, and wiped away my shame
In Your mercy, Oh, Your great mercy!
So take my doubt and fear, for You have brought me
here,wipe away the stain, and set me free…
(Chorus)
(BRIDGE)
Forever, forever, forever, so what else do I need.
Forever, forever, forever, You are all I need.
COVENANT31 – BIO
Husband and wife Patrick and Heather Eddolls have been leading corporate worship for over 10 years.  In the midst of serving their local church, God began to give songs to Patrick that the couple felt were intended to reach an audience beyond the four walls of their congregation.  Stepping out on faith, the couple pursued the Lord's leading and teamed together with drummer Joshua Eddolls and lead guitarist David Schrieber, and Bass player Ashley Eddolls to form Covenant31, a name inspired by Jeremiah 31:31-34 and the new covenant the Lord has established with His people.  The passage has become the foundation for the mission of Covenant31, committed to sharing it's message of hope through their songs with as many as will listen.
Since their formation in 2008, God has been very faithful to Covenant31's pursuit of His call upon their music and ministry, opening doors for the band to tour extensively across Arizona and California, including performances to tens of thousands at the Rage Christian Music Festival, Spirit West Coast Monterey and Del Mar and most recently at the Rock and Worship Roadshow tour stop in Phoenix after being named the Arizona "Battle of the Bands" winner by MercyMe.  Since 2008, Covenant31 has been performing alongside artists such as MercyMe, Tenth Avenue North, LeCrae, Hawk Nelson, Disciple, Sidewalk Prophets and Rend Collective Experiment.
Covenant31 will be playing June 28th in Prescott Valley, AZ for ELEVATE. It is a 3 Day Christian Music Festival where they will play alongside Third Day, Jars of Clay, Adam Cappa, Tenth Avenue North, Matthew West, Rend Collective Experiment, Casting Crowns, Jason Gray and Jonny Diaz. Covenant31's latest CD is available on Amazon, and "Power in the Name EP" just got picked up on Pandora Radio.
The band released several radio singles and it was met with overwhelming and unexpected success receiving airplay on over 750 stations worldwide.
In addition, the band was blessed with a rare opportunity to record songs from their latest EP with world renowned and multi-Dove Award winning and Grammy nominated producer Ed Cash.  Ed and his brother Scott worked together to produce the band's current radio single "Power in the Name" and future release "I Am Changed."
Releases:
Covenant31 (2008)

Power in the Name (2012)
Radio Singles: 
You Alone

Man on the Cross

Your Love Is

Immanuel

The Stand

Power in the Name

Click To Submit Press Releases, News, Calendar Items, and Community Events to mediaBrew radio stations WFXD, WKQS, WRUP, GTO, Fox Sport Marquette, and The Gift 106