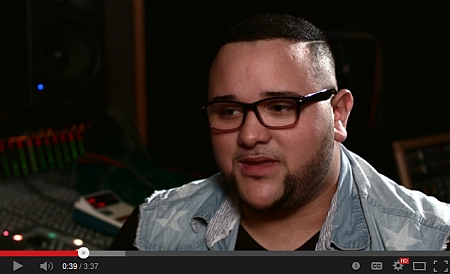 How many times do you have to fail before you give up? Is it two? Or maybe four? For Jeremy Rosado, giving up is not an option as evidenced by his extraordinary perseverance in becoming an American Idol finalist. And this passion and drive has also led Jeremy to sign with AIC Records, record his first full album with the Grammy award-winning songwriter and producer, Aaron Rice, and becoming the national spokesperson for Project Hope. Not bad for a guy from Valrico, FL who always hung on to his dreams and believed in God's plan for him.
Jeremy has been spending the last few months in Nashville, TN recording his new project for AIC Records, No Ordinary Moments that will be released nationwide in spring 2014. One of the songs on the album, Hope for Tomorrow, has now become an anthem for Project Hope and their relief efforts in the Philippines following the devastating typhoon that struck the area this past fall.
Jeremy had told AIC Records President, Mike Buckley, he would like to become involved with Project Hope's relief efforts for the Filipinos, as they have been so supportive of him as an artist during his American Idol days and now moving forward with his new album. Buckley contacted the charity and sent them a copy of Hope for Tomorrow, which led to Jeremy becoming a celebrity spokesperson for Project Hope's involvement in the Philippines. The song became available for purchase online on January 14 and a portion of every dollar will be donated by AIC Records to the relief effort.
"I don't forget the people who supported me through my journey of American Idol," said Rosado. "Their encouragement gave me strength and got me to where I am today. They gave me a brighter future, and I want to do the same for them."
The same perseverance shown by the Filipino community is also shared by Jeremy, which definitely led to the strong ties between them during Jeremy's American Idol days. Jeremy was rejected as a contestant four times by the show's producers. He would have had a valid excuse to stop then, especially since the next audition was over 400 miles away. After all, he was trying to work his way through his sophomore year of college. He had enough other things to focus on. His friends and family were supportive of his dream, but even they were starting to tell him to give up. He agonized over the thoughts, "Should I just stop?"
But Jeremy's focus wasn't on the work he had to do for himself. His focus was on what God had planned for him. God has always been the biggest part of his life, and he had been sharing himself as the worship director at Life Changing International Ministry in his Florida hometown. His experiences there had helped him to be confident in what God's plan was. He knew that he had been given a platform to help change the lives of others.
He couldn't give up.
He took that long road trip. And in that fifth season among over 121,000 auditions across the country, Jeremy Rosado made it. His hard work, dedication, and faith paid off. He landed as a finalist after he was hand-selected by Jennifer Lopez as her wild card pick. Now, Jeremy is using his platform to help people know that God is in control and that He will do more than we could ever imagine if we can just trust in Him.
"My family and hometown were my rock throughout the competition. My family always supported my singing career, but seeing the entire town coming together and supporting me was a blessing," says Rosado. "I really do see the entire world as one family, and family helps each other when times are tough. I now have the platform and ability to help my family on a large-scale. Why would I pass up that opportunity?"
Jeremy's album, No Ordinary Moments will be upbeat and provide the positive message to help us stay strong in seeking God's plan for us. The musical styles will keep us energized and help us see the world around us in a different way. Jeremy wears a verse on his bracelet that reminds him of the message that he hopes we can all come to know:
For I know the plans I have for you," declares the LORD, plans to prosper you and not to harm you, plans to give you hope and a future. Jeremiah 29:11
"Hope For Tomorrow" is a song about faith and the promises of God. When I sat down to write this song with Aaron Rice ("Get Back Up, Made to Love- TobyMac, "Good Morning" Mandisa) and Sam Tinnesz (Dead Alive- Natalie Grant, That's how you change the world -Newsboys), we were talking about my experience on American Idol. One of the things that people often ask me about is how I felt when I was eliminated. I had put so much time and energy into the experience, so when it ended I told them it was a very hard time for me because I didn't really know what was next. During these conversations about hard times in our lives, we realized that not only were the feelings of hopelessness universal but that the promises of God always remained. His promises to love, keep, and sustain us are not swayed or dependent on our circumstances. We talk about Psalm 30:5, For his anger lasts only a moment, but his favor lasts a lifetime! Weeping may last through the night, but joy comes with the morning, and how we place our trust with God's faithfulness and keep our hope in Him. The song is truly based on this belief, and even though we don't know when "tomorrow" will start for each of us we know it's promised and it is coming.
As I sat with Aaron and Sam writing "Hope For Tomorrow," there was just a sense in the room that this was the song we were supposed to write. Honestly, that doesn't happen all the time, but it felt like God had placed the three of us in that room, to write those specific lyrics, on that specific day. We all have personal stories of doubt, fear, and hopelessness. However, we knew that this was a message not only for us, but for anyone who could relate. We didn't finish the song that day even though it was almost complete. During the break of writing the song, Typhoon Haiyan happened in the Philippines. I have such a heart for the people from the Philippines because they showed me so much support during my Idol journey, and I immediately knew this song was not only for me, but for them. I wanted to send a message of God's amazing hope to them and He knew the perfect time when this song would be needed. I want people to know this tune is not only about our eternal hope, one that saves and restores us to Christ, but also about being the hands and feet of Jesus…..showing real hope to all those who need it.
Lyrics
Hope For Tomorrow
(Aaron Rice, Jeremy Rosado, Sam Tinnesz)
sometimes it feels like you've run off track
off course a million miles now you can't get back
yeah it feels like you're behind the pace
like you're never gonna catch up or finish the race
but you can't stop can't stop
keep moving moving
the One alive in you
will get me through
there is a hope for tomorrow
that's promised today
there is a peace for the sorrow
that washes away
every tear every fear
every sin every stain
there is a hope for tomorrow tomorrow
that's promised today
I know at times we all feel ashamed
with a memory replaying every past mistake
and even sometimes forgiven things
creep up and come back to fight your faith
but you can't stop can't stop
keep moving moving
the One alive in you
will get me through
in every moment watch His love unfold
He gave his life away to let you know

Click To Submit Press Releases, News, Calendar Items, and Community Events to mediaBrew radio stations WFXD, WKQS, WRUP, GTO, Fox Sport Marquette, and The Gift 106